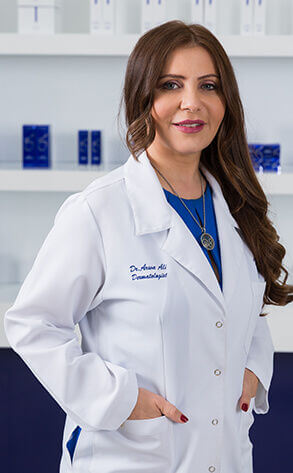 Dr. Arwa Ali
Specialist Dermatologist
Dr. Arwa Ali completed her dermatology Master degree in Syria in 1999 and further engaged in cosmetic dermatology ever since. She has extensive experience in diagnosing and treating various skin conditions. She stresses the importance of education and skin care as the best method for skin prevention and anti-ageing.
She carries 16 years of work experience in the use of our line of skin health programs. She also performs non- surgical treatments such as Botox & Fillers, threading, PRP and controlled depth and stimulation facial peels along with the use of the latest skin laser technologies.
Building up her professional career, attending international conferences and workshops kept her updated with the latest technology and procedures in cosmetic dermatology.
Dr. Arwa was selected by Allergan as their trainer in UAE to train dermatologists over the techniques of injectable (Botox & Filler).
She is dedicated to the needs of her patients and uses the most advanced medical, laser and non-surgical techniques available to reach the satisfaction of her patients, proven by the condensed clientele list out reaching her who trust their skin needs with someone as trained, experienced and knowledgeable as Dr Arwa.
She enjoys playing tennis and in her spare time reading a good book.