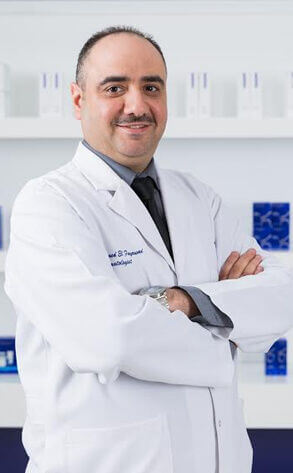 Dr. Mohamed Elfayoumi
Specialist Dermatologist
Dr Fayoumi is a holder of a Master degree in Dermatology & Venereology from University of Ain Shams, Egypt in 2003. Following his degree he started his advanced training at Ain Shams University Hospital. Further he occupied the position of lecturer in Dermatology at MUST University, where he was engaged in clinical research in various skin diseases.
Known by his passion towards his career and dedication to his patients across UAE emirates, Dr Fayoumi had built 12 years of prolific experience in Aesthetic dermatology in all procedures such as, Botox, Fillers, non-surgical face lift and a variety of advanced skin laser therapies.
Keeping himself updated with the latest technology in cosmetic dermatology, he participated in conferences and a variety of workshops in UAE and abroad.
He enjoys spending time with his family and reading latest dermatology journals.